Instead of distilled water, this soap is make from a strongly brewed coffee. The coffee smells strong after it's made, so I leave the coffee maker jug outside to smell for the neigbourhood while it cools. Then after measuring the amount of liquid I need, the coffee is put in the freezer until it's semi frozen. This allows for it to be used safely and without any ghastly smell caused by the 'extreme' heating that results when the caustic soda comes into contact with the coffee.
The top of the coffee soap has some colouring swirled in it and a small amount of the coffee grounds added to exfoliate. After the caustic soda has 'made' soap, all the smell from the coffee water is gone. To get a coffee smell a coffee fragrant oil is added.
Good Morning Coffee Soap
– 48 hours after unmoulding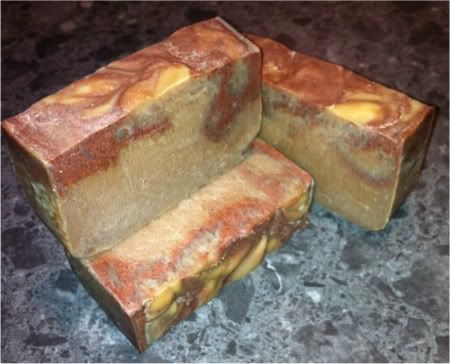 Good Morning Coffee
– after a few weeks of curing! Lovely colour!